"My Life with Wildlife"
Marty Stouffer is the world's most recognizable and authoritative spokesperson for America's wildlife. His long-running TV Series "Wild America" and his highly successful home-video are seen by millions of people each and every day.
For the millions of viewers worldwide who regularly watch the "Wild America" Series, Marty Stouffer opens a window on the great outdoors and introduces watchers of all ages to the wild creatures which call North America home.
Regardless of the fame and awards showered on him over the years, Marty still exudes the un-jaded, boyish sense of wonder and enthusiasm for Nature that began as a child growing up in rural Arkansas.
His mother, Agnes, encouraged her daughter, Mari, and her three sons, Marty, Mark and Marshall, to relate not just to the family Dog, Goat and Donkey but to the wild creatures of the forest as well. Orphaned birds and mammals were rescued, raised and released back into the countryside near their rural Fort Smith property.
"Leona," the Owl, learned to fly in the Stouffer living room, "Foxy," the Fox, shared "Whisper" the Spaniel's food bowl and "Stanley," a baby Beaver, lived in the bathtub for months.
Marty's dad, Martin, introduced his oldest son to hunting and to the art of tracking. Martin bought the family a Brownie box camera for still photographs and a Kodak 8mm movie camera which Marty and his brothers used to create "corny" (as Marty says) home movies about themselves, their adventures, and the animals around them.
But Marty yearned for adventure beyond the local woodlands. Through skills honed as an outdoorsman in the Arkansas woods, he survived his solo trip to Alaska at the age of 18. An August snowstorm buried the remote Brooks Range, and shut Marty off from the outside world.
He was able to survive for weeks by killing and eating a Dall sheep ram. When the folks back home actually paid money to see the unsophisticated movie he made about his trip, the young naturalist/filmmaker was amazed... and pleased. He immediately began planning his next big adventure.
After graduating from the University of Arkansas with a degree in English in June of 1970, Marty began producing his second film, this one for a safari company in Botswana, Africa. The professional 16mm film equipment he used on this project was a big step up from the amateur super 8mm camera he had used in Alaska.
The Lion, Cape Buffalo and Elephant of Africa were magnificent, but the wholesale slaughter of great numbers of a wide variety of animals he witnessed daily - some, acceptably, for camp meat but most only for trophies - saddened him.
He was 21 years old, disillusioned, at a remote tent camp in the immense Okavango Swamp, alone and lonely in a rapidly changing Africa, when he made some choices about his life.
Marty returned to America a changed young man. He determined to somehow make a living creating films which would promote the conservation of wildlife. In the early 1970's, he started his career in earnest. While remaining a hunter at heart, he began capturing his quarry on film. For seven years after his bloody African experience, hunting with a bow or rifle would not be a part of his life.
But, making a living marketing Nature films was tough. He produced and distributed films like "Bighorn" and "At the Crossroads" to schools, libraries and parks as he sold still photographs to magazines like Natural History, Audubon and Reader's Digest. While his impressive library of wildlife film footage grew, his bank account did not.
In the mid 1970's, with his brother Mark, he financed and co-produced the heart-warming Feature film, "The Man Who Loved Bears," narrated by Will Geer and the primetime NBC-TV Special "The Predators," narrated by Robert Redford. Marty and Mark also co-produced television projects with Paul Newman and several John Denver Specials for ABC-TV.
Finally, after numerous rejections of his various TV Series proposals by the major TV networks, the programming managers at PBS found his idea for a half-hour outdoor Series set in America too appealing - and too cost effective - to turn down. "Wild America" was born.
Unlike any Wildlife Series to date, "Wild America" focuses on the sometimes shocking reality of life in the wild, including, Marty says jokingly, "sex and violence." In all seriousness, before the arrival of this new Series, producers, such as Walt Disney and Marlin Perkins, had steered clear of natural behavior involving reproduction and predation.
Marty's stories, incorporating these dramatic "facts of life," and told simply in his honest home-spun style, won the hearts of a loyal audience. It also helped that the programs were magnificently filmed in slow-motion, time-lapse, telephoto and closeup cinematography. The Series became an almost-instant hit. It was one of PBS's most highly-rated regular Series, never leaving the Top Ten, and it remains the most broadcast Series which has ever aired on Public Television.
Today, Marty has expanded his horizons even farther, embarking on a booming home video business that includes over a dozen new titles like "Great Escapes," "Spectacular Showdowns," "Dangerous Encounters," and "Tender Times." More than two million videos have been sold to date.
And a theatrical Feature film, also entitled "Wild America," has been produced. This fast-paced comedy-adventure profiles Marty, Mark and Marshall Stouffer growing up wild and crazy in rural Arkansas and on the road filming. The Feature was created with "Forrest Gump" producer, Steve Tisch, Jim Robinson of Morgan Creek and Warner Bros.
Today, Marty lives in the high country outside Aspen, Colorado, with his wife, Diane, their children; 18 year old Hannah and 12 year old Luke, and the family's Springer Spaniel, "Shadow." Their home still sees a parade of wild orphans like Fishers, Kestrels and Otters that are lovingly raised, usually filmed and always returned to the wilderness by the Stouffer family.
In addition to filming, Marty explores for historical artifacts and, along with his children, has a collection of "small white rocks." He enjoys skiing and riding deep into the Colorado wilderness on pack trips with his mules, "Dolly" and "Janey", on what he describes as "The Sacred Hunt"- a spiritual return to his roots as an ethical hunter.
A gifted and lively personality and storyteller, Marty smiles broadly as he looks back over his thirty-year career as America's premiere naturalist and reminisces about his fascinating adventures with animals and people - friendly and otherwise - down through the years. "We've had one heck of a good time," he says with a big grin.
He has succeeded, against all odds, in producing a long-running, prime-time Wildlife Series of a kind and quality found nowhere else on American television. His unique approach takes the mystery out of wildlife but still preserves the magic.
Marty's earliest exposures to wildlife filmmaking were to the lecture films of Wally Taber and the theatrical Walt Disney True-Life Adventures - his most recent mentors have been film presenter David Attenborough, poet Robert Bly and writer Pia Melody.
A look at the career of Marty Stouffer is also a fascinating exploration into the rich and varied history of the evolving Wildlife Film. In the early stages of filmmaking, adventure and travel dominated the genre in the form of travelogues. Human hunters, such as Osa & Martin Johnson and Theodore Roosevelt, documenting their expeditions to exotic places, were the main focus; with animals serving only as objects of the hunt.
Next came a scientific era, with films showing animal experts in "talking head" interviews. The focus became a connection between science, education and the natural world.
What followed was a turn-around in approach, as filmmakers displayed animals in purely entertaining ways. Some, like Arne Sucksdorff, presented Nature as a thing of beauty to be appreciated like a work of art. Walt Disney's films largely dominated this phase of filmmaking - with amusing stories of lovable humanized creatures - showing an innocent and simple - if somewhat inaccurate and anthropomorphized - side of the natural world.
Finally, a growing concern for our threatened environment dictated the most recent - and current - stage: a focus on diminishing species and an acknowledgment that animals are not only beautiful, but also important as environmental barometers for the continued health of humans.
By amazing comparison, Marty Stouffer's own career also evolved to encompass four distinct stages of film development - adventure, science, entertainment and environment. The first time Marty consciously combined photography and wildlife was in making several short 8mm home movies of Duck hunting trips during his teens. These early efforts evolved into expeditions to Alaska and Africa, as he documented on film his travels and the hunts encountered there.
Next, his curiosity and social conscience combined and created such early film projects as "Bighorn!"and "At the Crossroads - the Story of America's Endangered Species."
Evolving yet again, he worked on popular TV Specials with John Denver, Paul Newman and Robert Redford before settling into the "Wild America" niche and creating more than 120 exciting episodes of this popular continuing Series.
Now in the editing room are programs about Polar Bear mothers, Bison fathers, Mustangs living wild and free, beautiful Wildflowers and amazing Bird Bills.
With the future bright and beckoning, there is certainly no end in sight. The country boy hit the big time, and he's loving every minute of it. As Marty says with a big grin, "Until next time, enjoy our 'Wild America'!"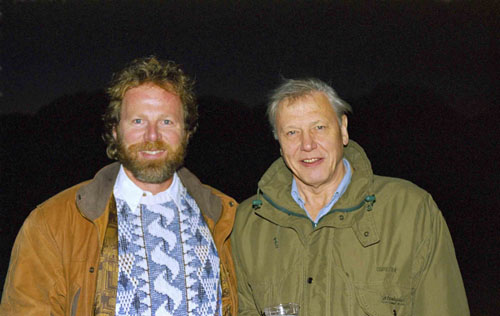 Marty Stouffer with David Attenborough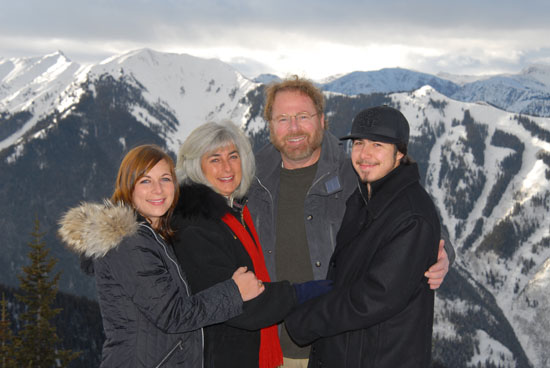 Hannah, Diane, Marty and Luke Stouffer